2017 will mark the 10th anniversary of the iPhone and Apple has something major planned to celebrate the occasion. We've got a month or so to go until the launch of the iPhone 8, but because of Apple's ambitious plans for the device, there are already an abundance of rumors hinting at the impressive features coming in the 2017 iPhone.
Apple tested more than 10 prototype iPhone models, leading to a lot of mixed rumors floating around, but the general design and the features we can expect have mostly been nailed down, including in leaks from Apple itself.
The iPhone 8 is expected to feature a radical redesign, with an edge-to-edge display that does away with the top and bottom bezels where features like the Touch ID fingerprint sensor and the front-facing camera are housed. Instead, rumors suggest Touch ID will either be built into the display or eliminated entirely in favor of facial recognition technology, which Apple is confirmed to be working on. Either way, there will be no physical Home button on the iPhone 8 and no bezels aside from a small area for the front-facing camera.




With an edge-to-edge design, the iPhone 8 may be similar in size to the 4.7-inch iPhone, but with a display the size of the 5.5-inch iPhone. Rumors suggest it will feature a 5.8-inch display with 5.15 inches of usable area, with the rest dedicated to virtual buttons that will replace the existing Home button.
The display itself is said to be a flexible plastic OLED rather than an LCD, allowing Apple to introduce a thinner device that consumes less power and offers a better display with higher contrast ratio and more true to life colors. It will feature a slightly curved 2.5D display that's similar to the display used in the iPhone 7.
As for the body, Apple is finally moving away from the aluminum used in the iPhone 5, 5s, 6, 6s, 7, and SE, and will instead adopt a glass body that's similar to the body that was used for the iPhone 4. According to analyst Ming-Chi Kuo, the glass will be built around a polished stainless steel frame that's similar in design to the Apple Watch. Other models will also feature glass, but with an aluminum frame.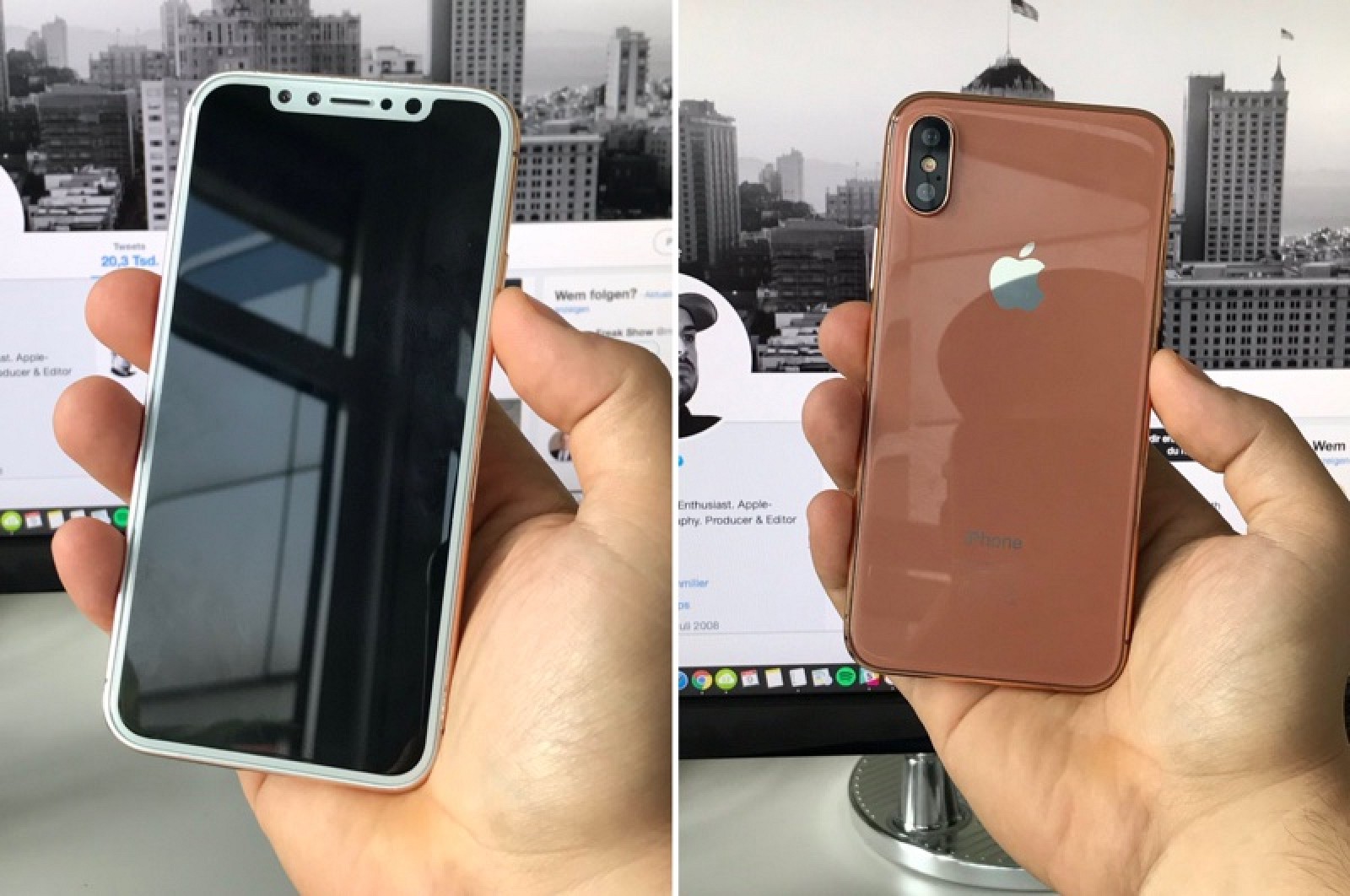 Like the iPhone 7, the iPhone 8 is expected to be water resistant, but it may have an improved IP68 water resistance rating. It will continue to be able to hold up to rain, splashes, and brief submersion in water, and that water resistance has been confirmed by an Apple supplier and may extend to all iPhone models being released in 2017.
Inside, the iPhone 8 is expected to have a 10-nanometer A11 chip that will be both faster and more efficient, plus rumors suggest it could also include features like induction-based wireless charging and biometric additions like facial recognition that would be used for device security, perhaps to replace Touch ID. In higher-end models with a dual-lens camera, both lenses are expected to feature optical image stabilization.
The iPhone 8's front-facing camera will include advanced 3D sensing capabilities that use technology by PrimeSense, allowing it to find the location and depth of objects in front of it, enabling advanced 3D facial recognition features. Rumors suggest Apple will use a vertical rear camera for improved pictures and better AR functionality, along with a dual-camera setup for the front-facing FaceTime camera.




Apple is said to be planning to position the OLED iPhone 8 as a ~5-inch "premium" model that will be sold alongside standard 4.7 and 5.5-inch iPhone models with traditional LCD screens. The iPhone 8 is expected to cost as much as $1,000, which is a good deal more expensive than previous iPhones. The iPhone 8 and its companion devices are expected to be available in a limited number of colors — gold, silver, and black.